Getting ready for the NCLEX exam can be frustrating at times, but our list of resources for practice NCLEX questions and study aids will make it much easier. You can also read all about the best NCLEX prep course and how you can pass faster here.
There's no doubt about it- the NCLEX is a crucial exam for your nursing career. With a lot riding on your result- admittance, potential job opportunities, and more. – you'll want to make sure you are preparing for the NCLEX in the best possible way so you are ready when exam day comes. What's more, you'll want to find the best test prep tools in order to ensure yourself the highest odds of passing on your first try.
40 Best Resources for NCLEX Prep, Review & Practice
We know that providing you with the confidence that you can succeed is one important aspect of passing the NCLEX. This is why we've put together this extensive list of resources to help you better prepare for the NCLEX-RN. Knowledge is power, and these are some of the most powerful sources of knowledge when it comes to preparing for nursing exams.
Read through the list below and don't forget to tell us what your favorites are in the comments!
NCLEX-RN Review Guides
If your NCLEX test is fast approaching, you don't want to be stuck poring over long textbooks. Figure out what's most important for you and what you should be spending your precious study time on with focused NCLEX-RN study guides.
Kaplan Test Prep: NCLEX-RN Premier 2017 with 2 Practice Tests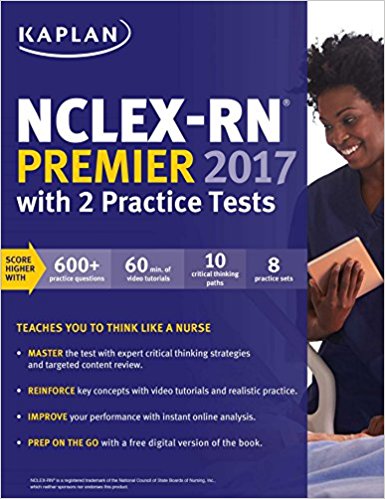 This is one of the most comprehensive review guides available for purchase. 10 critical thinking strategies are outlined over eight chapters, and many practice questions are included to test your nursing knowledge. This review guide is perfect for people looking for an all-in-one resource for the NCLEX-RN exam.
Kaplan Test Prep: NCLEX-RN Drug Guide
For potential students looking to focus their studies on one particular section of their nursing exam, Kaplan's guide on over 300 different medications is an excellent choice. Pages are designed in the form of flashcards and describe the different families, side effects, and medical applications of each drug.
Kaplan Test Prep: NCLEX-RN Content Review Guide
With a focus on critical reasoning over practice tests, this Kaplan nursing exam guide is a great companion to standard guides. It incorporates NCLEX's Client Need information and is designed around cognitive strategies to help you understand what is required in a nursing career, which then translates into effectiveness taking the exam.
This test guide is divided into specific aspects of the NCLEX-PN exam, making it perfect for nurses who need to focus on specific aspects of the test. In addition to thorough reviews of each section coupled with tests, the Secrets Study Guide also comes with video tutorials.
NCLEX STUDY GUIDE FOR THE PRACTICAL NURSE – Second Edition
Written by a nursing professional with over 15 years of experience, this is a quick guide that covers several areas of the NCLEX. It's a quick read with around 65 pages, which makes it an excellent introduction to the test as well as a jumping off point for further studying. You will still want to use other study resources in conjunction with this book.
Lippincott Review for NCLEX-PN
This study guide for the NCLEX-PN has a great deal of valuable information for a very reasonable price. It contains 17 chapters covering different subjects and aspects of the nursing exam, all with practice tests at the very end. You can save some money buying them used, but getting a new copy adds the benefit of bonus online study materials.
HESI Comprehensive Review for the NCLEX-PN® Examination (5th Edition)
One of the best features of this study guide that sets it apart from many others is the way it handles incorrect answers. Rationale for answering questions incorrectly is addressed and tips are given to help you avoid falling into these traps. Extra practice questions can be accessed with the companion online material included in this product.
NCLEX Practice Questions
Along with study guides, answering practice questions are a terrific way to prepare yourself for any exam. The NCLEX is no exception, and using these resources for practice questions that are identical to ones on the exam will help you become more comfortable with the entire process and quicker!
GraduateX NCLEX-RN Exam Practice Questions
Best for helping to quickly acclimate you to the formatting and some of the subject matter of the NCLEX-RN, GraduateX's free online practice questions are a terrific study tool. Jumping right into these questions is a terrific way to adjust mentally to the pressure of the real thing, although you may still want to supplement this with other study resources.
BoardVitals Board Review Questions and Practice Tests
In addition to having over 3,000 questions, BoardVitals also implements computer adaptive technology to ensure that your entire test experience is challenging and educational.
Lippincott NCLEX-PN Alternate-Format Questions (4th Edition)
While studying practice questions can help you adjust to the test format, they aren't always the best at ensuring you actually understand the material you are being tested on. That's where this set of alternate-format questions comes in! These questions are set up in radically different styles, ensuring you understand the information needed and not just how to answer multiple-choice questions.
NCLEX Flashcards
Late night dates with a 300-page textbook and a never-ending supply of coffee are a familiar encounter for many nurses. Burnout is highly likely in these scenarios, so it helps to have some other methods of studying in order to shake things up. If you're serious about cracking the exam, you put yourself at a serious disadvantage by not working with flashcards.
NCLEX-RN Medication Flashcards (4th Edition)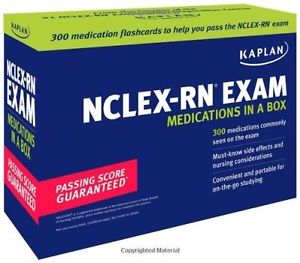 This set of flashcards by Kaplan is perfect for tactile learners who want something interactive to study with. They are organized by different categories with color coding, making it easy to study different aspects at a time. 300 cards are contained in this package of physical flashcards.
NCLEX-RN Flashcard Study System
What's interesting about these cards is that they are more expensive to purchase digitally than physically. This may have something to do with the added convenience of digital media, but for those who are more suited to physical learning, this is a terrific deal!
NCLEX-RN Test Plans
Having a solid plan is the key to success, whether you are approaching an exam or a real-world scenario. Because of this, it is incredibly important to understand the test you are about to take and formulate a plan around it. The more you know and learn about the NCLEX's structure, the more confident and better prepared you'll be when it's time to take the exam. These details on the tests and plans for preparing are a must-read.
Even if you've studied for months on end and made your way through nursing school, you may still feel completely lost before taking the NCLEX. This guide made by nursing officials on the State Board is designed to ease you through the process of preparing for the exam, right up to the big day.
If you've put down the money for an online course or a girthy textbook, you still have to actually use them. This study plan is designed to help you make the most of your time with these materials, helping you figure out a 56-hour study schedule. Use this free PDF guide as a companion to your other study materials to maximize your mileage with them.
UNC School of Nursing NCLEX Study Schedule
This guide provides you with a three month plan for taking the NCLEX, based on nursing school curriculum strategies. It has tips for studying three months before, a few weeks before, a few days before, and even some advice for what to do during the exam.
NCLEX-RN Online Programs
NCLEX-RN Alternative Strategies
Standardized tests like the NCLEX exam may be a bit frustrating, yet are still a necessary rite of passage into the nursing profession. Just because the tests have strict formats, that doesn't necessarily mean the best success strategy to stick to strict test prep formats. If flash cards and practice questions are starting to wear you down, try thinking outside the box with some of these alternative test prep strategies.
Nursing Mnemonics: 108 Memory Tricks to Demolish Nursing School
Mnemonics are a terrific memorization tool that teaches you to associate acronyms and phrases with key concepts. This book incorporates mnemonic learning strategies to cover complex nursing concepts with the intent of reinforcing your memory of them. Although it's designed for nursing school and not the NCLEX, it can help you remember things you were taught in nursing school and carry them over into the exam.
NCLEX RN Mastery Study Strategies
This companion article to a popular NCLEX study app offers some insightful strategies to help you make the most of your study time. Trying some of the methods listed in this article can keep things fresh so you don't burn out while studying for weeks or months before the exam.
Ameritech NCLEX Study Tips
This quick guide from the Ameritech College of Healthcare covers some quick tips for making the most of your study sessions. The eight steps outlined in this article should help you approach each question, understand it, and answer it, all within a reasonable amount of time.
NCLEX- RN Webinars
Preparing yourself thoroughly is the best way to quell your pre-test jitters. Participate in the NCLEX webinars listed below and get an opportunity to interact and ask questions with live instructors. Check out the pre-recorded webinar sessions if you're not able to take part in live sessions and you can feel a lot more confident and prepared for whatever the nursing exam has to throw at you.
GraduateX NCLEX-RN Video Strategy Sessions
This free online course incorporates several video lectures, broken up with some practice tests. It's designed for you to progress through specific sections, only moving on when you've locked down the information contained within. This is perfect for students on a budget who learn best through lectures.
NurseTim NCLEX Webinar Catalog
This program has a flexible price point depending on what areas of the exam you want to cover. If you're struggling with a few key concepts on the NCLEX, this is an excellent way to save some money on an online seminar.
NRSNG NCLEX Webinars
The NRSNG On-Demand Webinars start every 15 minutes. They involve a video lecture breaking down 11 key points to consider when taking nursing exams, and they guarantee these tips will help you pass any exam required to be a nurse.
ATI Testing Recorded Webinar
ATI offers a live webinar to accompany their free and premium testing materials. For those students who need contact with a live professor but don't have the time or transportation, this can fulfill that need.
Wolters Kluwer Webinar Series
The webinars offered by Wolters Kluwer vary depending on the season. They cover a wide range of subjects, but there's always at least one touching on the nursing profession. You can find schedules for each lecture on their website.
NCLEX- RN Cram Sheets
So you've studied for months and exam day is approaching. What's the best course of action when you're so close to the finish line? Aside from ensure you get a good night's sleep, it's always a good idea to cram in some last-minute studying. These cram sheets are designed to provide a quick rundown of key information you'll be tested on when taking the NCLEX.
NursesLabs Nursing Exam Cram Sheet
This is a free 7 page printable PDF that can be used as a cram sheet for the exam. It covers all of the important points of the NCLEX, serving as a 'greatest hits.' If time is of the essence, you can do a whole lot worse than this study tool.
This cram sheet is far shorter than the previous one on this list, only encompassing two pages. For nursing students with a short attention span and literal minutes before the test begins, this is a helpful resource for quickly reminding yourself about important concepts.
QD Nurses Pharmacology NCLEX Cram
This website has a few resources for you to implement in your last-minute study sessions. A few short videos can offer a refresher on pharmacology and cardiac diagnoses, and key terms and medicines are listed in bullet points. Don't let the awkward formatting of this website turn you off; it's still an effective tool.
Conclusion
There are actually hundreds, if not thousands, of NCLEX assets, all shifting in cost and adequacy. This rundown speaks to only a little accumulation of the best NCLEX assets accessible. Check out a little and you're certain to discover huge amounts of more practice NCLEX inquiries and study guides.
In any case, on the off chance that you would prefer not to invest the additional energy inquiring about investigation materials and simply need to hit those books at the earliest opportunity, we've taken every necessary step for you. Concentrate for the NCLEX utilizing these assets and plan to be an incredible medical attendant.
What are your most loved NCLEX question and study assets? Tell us in the remarks, and a debt of gratitude is in order for perusing!